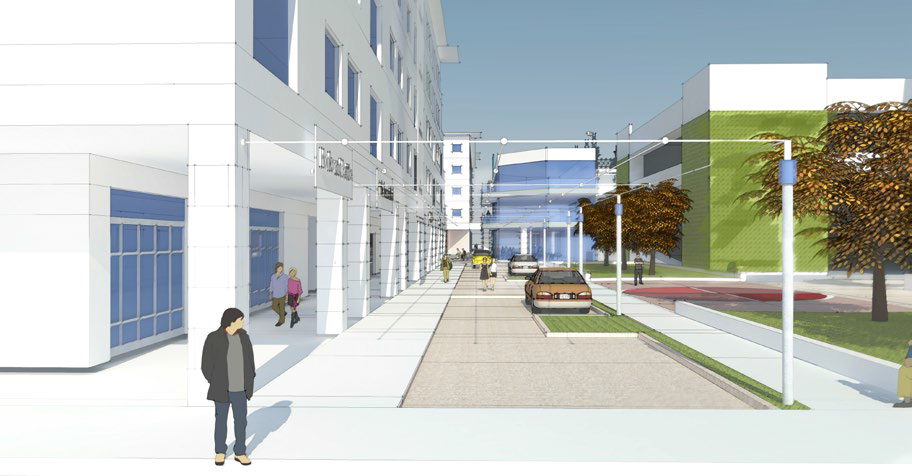 Clearwater is excited to announce our next development proposal: The PaperBox site in downtown SLC.  The city met and passed our proposal onto the next phase. Micah Peters had this to say about the agreement approved on Tuesday:
"Development rights to the 2 acre Paper Box site allows Clearwater Homes to complete our vision for an integrated urban renewal master plan that will provide continuity to the entire block. Essentially, the Paragon Station development, Paper Box site, and the future development of our Westgate Parking lot fronting 200 S will result in a dynamic and cohesive mixed use pedestrian friendly experience that enhances SLC metropolitan culture".
Read the full write up by sltrib.com below:
Salt Lake City's urban-renewal agency has entered into exclusive talks with two developers hoping to build a mixed-use residential project on a city-owned downtown lot known as the Utah PaperBox site.
The agreement, approved Tuesday by the Redevelopment Agency board, gives the developers — both own property next to the parcel — 90 days free of outside competition as they negotiate a purchase price for the land located at 340 West 200 South.
Salt Lake City developer ClearWater Homes and Provo-based PEG Development have proposed a blend of apartments, stores and offices with a small urban park and tree-lined walkway for the midblock site, which the city bought in 2010.
If completed as planned, the development would bring 168 new residential units to the city's core, with about 30 of those dwellings set aside for tenants with below-average incomes.
"I love this project," said Salt Lake City Councilman James Rogers, who, like other council members, also serves on the RDA board.
The two-acre site holds a disused packaging-manufacturing facility, operated for generations by Utah PaperBox Co.
The lot is prime property. A long, rectangular parcel, it offers frontage on 300 West and 400 West, with a light-rail station nearby. The land also sits near Vivint Smart Home Arena, the Salt Palace, Gateway mall and the summer Farmers Market at Pioneer Park.
The exclusive deal with ClearWater and PEG is being inked amid a boom in residential construction downtown and escalating land values, driven by a surge of young adults and retirees moving to the heart of the city.
City documents say ClearWater and PEG understand that the purchase price "will be fair market value as determined by an appraisal." Records show the RDA paid just under $3 million for the lot.
Despite concerns about shrinking availability of affordable housing within city limits, RDA officials scaled back slightly its requirements for affordable housing. Developers were given added leeway on Tuesday to cater to the upper portion of median household incomes within the range of city-established lower-income standards.
The flexibility on income levels is needed, according to ClearWater CEO Micah Peters, to make the project financially feasible.
"It all boils down to economics," Peters told the RDA board.
The city's pact with PEG and ClearWater places significant demands on what the developers can do with the land.
While focused on high-density residential, the project must be mixed use, incorporating commercial, retail and "live-work" uses with its housing and open spaces. The development also must include a park of no less than 10,000 square feet and a plaza that integrates with surrounding properties.
New council member Derek Kitchen raised concerns that a park that size in the downtown core might attract the homeless, potentially making the amenity unsafe for residents. Developers said they were considering fencing, additional supervision and even closing the park during parts of the day to ensure safety.
The city's agreement also bars surface parking lots, instead encouraging underground parking stalls. And plans must include "design features and a program that would support families living in the development," city documents say.
Success, the developers said, would depend on two large five-story residential buildings proposed for the southeast and southwest corners. These structures would feature a mix of studio and one- and two-bedroom apartments, as well as 35 live-work units at street level that combine residential and retail uses and are intended to draw business owners as tenants.
"We envision that street level to be a lively and festive market environment, where vendors open glass garage doors to invite shoppers in to browse local products," PEG and ClearWater said in a city report on the project.
ClearWater Homes is a custom builder of several recent and successful projects in downtown Salt Lake City, most notably Broadway Lofts, just north of Pioneer Park. The company is working on Paragon Station, another urban-renewal project that is building 38 luxury condominiums on the corner parcel just south of the Utah PaperBox site.
PEG Development is owner and developer of two new hotels, Hyatt House and Marriott Courtyard, north of the parcel.
The two companies have partnered with VCBO Architecture in Salt Lake City for design of the PaperBox project.
Their joint pitch refers to a "renaissance" underway in the city's central business district.
With downtown's growing night life and attractions, the report said, "residents will want to live here not only because of its fantastic location but also because the amenities available to those residents cannot be found anywhere else in downtown Salt Lake City."
Source: Salt Lake Tribune: http://www.sltrib.com/news/3409893-155/salt-lake-city-eyes-new-residential-retail