Paragon Station – Salt Lake City, Utah.
(For Lease Only)
LEED Gold Certified Condo Community (Downtown Salt Lake City)!
The Westgate Business Center building at the corner of 300 West and 200 South had a storied past as part of the historic Westside Warehouse District. Originally, the area which still shows evidence of the more than a dozen warehouse buildings was largely residential and had been since the town was platted. An 1889 map shows the First Baptist Church comfortably standing on the corner of 300 West and 200 South and surrounded by one and two story houses.
A rapid change swept over the area as the result of the expansion of the railroad lines and access in the area. Construction of rail spurs branching off from the main line located on 400 West provided convenient access for manufacturers, suppliers and retailers alike. The warehouses that sprang up in response to the immediate rail access where occupied by M. A. Keyser Fireproof Storage Co., Cudahy Packing Co., Symns Grocer, Kahn Bros Grocers, Keyser Warehouse, the Crane Building, Capital Electric Company and the Salt Lake Stamp Co. Old photographs show warehouses displaying signs advertising such things as "Ham and Meat", "Findings" or "Wool and Hides".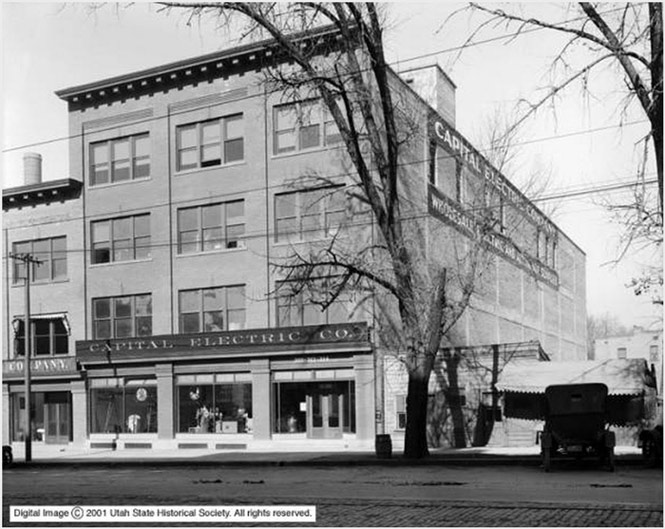 The Keyser Warehouses were a trio of buildings with construction extending over a 12 year span, beginning in 1909 and completed in 1920. Some of the more prominent occupants were the Utah State Office of Education's Division of Rehabilitation Services, the Union Pacific's Regional Training Center and offices and The General Electric Supply Co. which occupied the building for 40 years from 1929 to 1969. Years of prosperity were followed by an era witnessing vacant buildings, broken sidewalks, potholed streets and abandoned yet exposed railroad tracks.
Despite the risks of rehabbing the Keyser Warehouse buildings into office space, today the three buildings are known as the Westgate Business Center and have provided office space for many tenants since. Other prominent occupants included Sears Roebuck, Hood Rubber, and Richmond Machinery and Mountain States Supply.
ClearWater Homes acquired the two eastern most Westgate buildings in late 2012 with plans to renovate the buildings into upscale urban residential lofts. Please contact us to learn more about the Paragon Station condo project and get information regarding future availability and pricing.
Need More Information?
CALL (801) 218-2895
tags
westgate lofts, westgate business center, salt lake city lofts, salt lake city condos, lofts in salt lake city, condos for sale in salt lake city, lofts for sale in salt lake city, downtown salt lake city lofts, clearwater homes, condos for sale in utah, lofts for sale in utah, utah home builder, utah condos, apartments for sale in salt lake city, luxury lofts in salt lake city, clearwater homes utah