Whose equity are you building? Equity for you and your family, or for your landlord?
While the sobering effects of the 2008 housing crisis may have prompted a more cautious approach by buyers who are more realistic about the level of equity they can build in their homes, the drive to be a home owner remains strong and continues to grow. Although the opportunity to build equity/wealth is still a major factor influencing people's desire to buy, recent surveys have shown that "freedom" is an even bigger factor: The ability to paint the walls whatever color you want, or know that a landlord is not going to raise your rent or ask you to leave. The financial benefit is still very promising as long as you intend on staying in your new home for at least a few years (the longer you stay, the more equity you can build).
Here are a few points to consider when deciding whether to continue renting or buy…
Reasons to Buy
Equity. When you pay rent, you are paying your landlord's mortgage or adding equity to his or her bank account. However, when you have a home mortgage, you increase your degree of ownership in your home with every payment. A general rule is that if you intend to stay in your property for at least five to seven years, the costs of purchasing the home are more likely to be offset by accrued equity and increased housing value. In the event that equity in the home grows to more than a 20-to-80 percent loan-to-value ratio, you will be able to borrow against your equity in the home. This can be cautiously used should you need capital to pay for major purchases. If interest rates drop, you can refinance your mortgage at more favorable rates, or, once you've paid the entire mortgage off, borrow against the equity in your home to fund major purchases such as a second home or your child's education.
Tax deductions. You can deduct mortgage interest as well as your property taxes. Uncle Sam doesn't give renters this bonus. Not only that, but if you meet certain requirements the IRS won't apply a "capital gains" tax on your profits from the sale of your home. You can keep the first $250,000 in profit you make when selling the home if you're single, or the first $500,000 if married. In addition, those who work from home may be eligible to take deductions for their home office and portions of utilities.
Creative control. You like dozens of pictures on the wall? Well, hammer away — they are your walls now. Go ahead and paint them mango! Wish you had another room? Go ahead and add one.
Maintenance choices. If you live in a house, you can decide how to approach maintenance, either doing it yourself or picking your own contractor. If you live in a condominium or loft community, you will pay a monthly fee to have maintenance work covered by the home owner association's (HOA) contractors.
See The Benefits of Home Ownership for a detailed list of the benefits associated with owning your home.
Reasons to Rent
Flexibility. Renting allows you to explore an area before making the longer-term commitment to home ownership. Unless you are certain about a specific neighborhood, renting allows time for research and discovery.
Career uncertainty. If you think you might need to move in the near future, or are mulling job changes that span several areas of town or are located elsewhere in the country, you might want to rent. Buying ties you down to a greater extent.
Income uncertainty. If you expect a pay hike or cut in the near future, that can change your borrowing ability as well as impact your ability to pay a mortgage.
Bad credit. Creating a history of on-time rental payments can help you build the sort of credit you'll need to qualify for a mortgage.
Low or no maintenance expenses. When a pipe leaks, you don't head to the store; you head for the telephone and call the landlord.
Is Renting Cheaper?
Whether renting or buying is more cost effective depends on your market, where you choose to live, how long you intend on staying in your home, and whether you like to do home improvement and maintenance projects yourself (among other factors).
Click on the image below to open the Renting vs. Buying Calculator: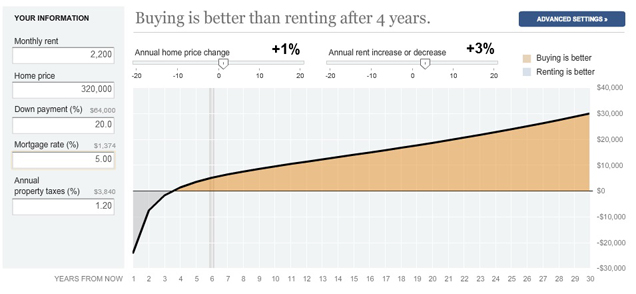 Renting vs. Buying Tool from Trulia.com:
As you can see from these calculators (and from common sense), the longer you plan on living in your home, the more financial sense it makes to buy. This is because of the combined impact of the equity you build up over time and the amortization of your mortgage.
Many renters think that they just can't afford a new home. And they are pleasantly surprised to find that a house payment is very comparable to their monthly rent, when considering the after tax equivalent. Most of a new house payment is made up of mortgage interest and real estate taxes (up to 90% of the monthly payment is some cases).
Since these are tax deductible, the actual cost of the after tax equivalent mortgage payment is much less than you think. The exact amount is determined by your specific tax situation. Feel free to contact us to learn more and get a better idea of what you can afford.
Are you looking for a new home in Utah? Take a look at our available homes & urban lofts ›