From tax savings and financial security to creative freedom and control, there are many benefits that come with home ownership…
Financial Benefits

Home Ownership Builds Wealth Over Time
We were always taught growing up that owning a home is financially savvy. Our parents knew it. But this past decade of real estate turbulence has shaken everyone's confidence. That is why it's so important that we discuss this; it is the first New Rule for Today's New Market. A rule that just happens to be new and old at the same time. As long as you hold on to your home for the long haul, statistics show us that you will build wealth.
You Build Equity Every Month
Your equity in your home is the amount of money you can sell it for minus what you still owe on it. Every month you make a mortgage payment, and every month a portion of what you pay reduces the amount you owe. That reduction of your mortgage every month increases your equity. The way mortgages work, the principal portion of your payment increases slightly every month year after year. It's lowest on your first payment and highest on your last payment. Thus, as the months and years go by, your equity grows.
You Reap Tax Benefits
Mortgage deduction: The tax code allows homeowners to deduct the mortgage interest from their tax obligations. For many people this is a huge deduction since interest payments can be the largest component of your mortgage payment in the early years of owning a home.
Some closing cost deductions: The first year you buy your home, you are able to claim the points (also called origination fees) on your loan, no matter whether they are paid by you or the seller. And because origination fees of 1 percent or more are common, the savings are considerable.
Property tax is deductible: Real estate property taxes paid on your primary residence and a vacation home are fully deductible for income tax purposes.
Interest on home equity loans: In addition to your mortgage interest, you can deduct the interest you pay on a home equity loan (or line of credit). This allows you to shift your credit card debts to your home equity loan, pay a lower interest rate than the horrendously exorbitant credit card interest rates, and get a deduction on the interest as well.
You Get a Capital Gains Exclusion
If you buy a home to live in as your primary residence for more than two years then you will qualify. When you sell, you can keep up to $250,000 if you are single, or $500,000 if you are married, in profit, and not owe any capital gains taxes.
You Can Use Home Equity as Leverage
Building up equity in your home allows you to eventually leverage that equity to pay for other expenses in life, including high-interest loans and credit card balances. And unlike interest payments made on a credit card balance, home equity loan interest payments are deductible. For many home owners, it makes sense to pay off this kind of debt with a home equity loan.
A Mortgage Is Like a Forced Savings Plan
Paying your mortgage every month and reducing the amount of your principal is like a forced savings plan. Each month you are building up more valuable equity in your home. In a sense, you are being forced to save money and that's a good thing.
Long Term, Buying Is Cheaper than Renting
In the first couple of years it may be cheaper to rent in some cases (see renting vs. owning). But over time, as the interest portion of your mortgage payment decreases, the interest that you pay will eventually be lower than the rent you would have been paying. But more importantly, you are not throwing away all that money on rent. You need to live someplace, so instead of paying off your landlord's home or building, pay off your own!
Other [Less Obvious] Financial Benefits:
Build positive credit faster, lowering the costs for other types of financing such as car loans
Better terms and lower rates on credit cards
Significant discounts on insurance services, particularly when your homeowner and auto policies are with the same insurance company
Non-Financial Benefits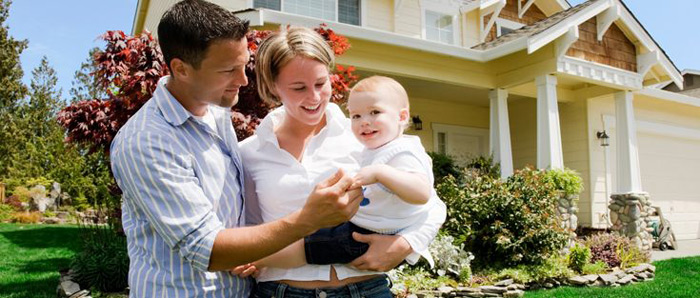 A Place to Call Home
Owning a home is more than a financial decision. Your investment goes far beyond taxes and equity. Owning a home means investing in the community where you live, its parks, public safety services, local entertainment, and schools.
It's an investment in your family by providing them with the stability and consistency that comes from having a place to call home. And its an investment in yourself as you learn what the pride of home ownership is really about.
This is where you'll share stories around the kitchen table and experience the full gamut of life's ups and downs. From you baby's first steps to her first kiss to her first dance at her wedding – it's all about having a place for your dreams.
Creative and Lifestyle Freedom
Owning your home means you're in control. Paint the walls any color you desire, turn up the volume on your CD player, attach permanent fixtures and decorate your home according to your own taste, get a dog or cat (or both), do whatever you want with YOUR home!
Are you looking for a new home in Utah? Take a look at our available homes & urban lofts ›